Esthetic Dentist in Haslet, TX
The brief descriptions below are designed to familiarize you with our staff's training, professional credentials and work experience.
Steven D. Alaniz, DDS, MAGD
Dr. Steven D. Alaniz has designed his office to feel more like home than a dental practice by offering comfortable chairs, overhead televisions and spa-like touches. He believes that if his patients feel at home and are comfortable, they will always enjoy coming and maintaining their dental health. He will customize treatment plans to best benefit each patient's dental health with function and beauty at the forefront. He offers nitrous oxide as well as oral sedation in order to provide a level of comfort to meet each individual patient's needs. He also works with a dental anesthesiologist in the event that a patient would like to be completely asleep for any procedure.  He is committed to dental education in order to stay current on leading technology, techniques and procedures in order for his patients to have the best care available. He is currently a member and Master in the Academy of General Dentistry, the American Dental Association, Texas Dental Association and the Fort Worth District Dental Society. He was confirmed in July 2020 that he completed the requirements to earn his Mastership in the Academy of Gereral Dentistry, an achievement held by less than 2% of general dentists in the United States.  He currently has over 1,100 hours of continuing education and averages 120 hours a year. This is 108 hours over the state required 12 hours. Dr. Alaniz is a CEREC Mentor and Visiting Faculty at the Spear Institute in Scottsdale, AZ where he mentors dental professionals from around the world on incorporating CAD/CAM dentistry into their everyday practice.
Dr. Alaniz earned his degree in Biomedical Science from Texas A&M University in 2000. He then received his Doctor of Dental Surgery degree from Texas A&M Health Science Center – Baylor College of Dentistry in 2004. Upon graduation, he signed an 8 year contract with the United States Army and served the 82nd Airborne Division at Fort Bragg, NC and the 1st Cavalry and 4th Infantry Divisions at Fort Hood, TX. After completion of his contract in 2012, he pursued private practice associateships until he was able to build a private practice of his own in 2011.  In 2016, Dr. Alaniz completed a mini-residency program at UCLA School of Dentistry in TMD and Oral Facial Pain.  Also in 2016, Dr. Alaniz joined the United States Air Force Reserve as the Chief of Dental Services at the Joint Reserve Base in Fort Worth, TX.  He is currently the Aerospace Medicine Flight Commander for the 301st Medical Squadron at the Naval Air Station Joint Reserve Base in Fort Worth, TX.
Dr. Alaniz is married and has four children, Bailey, Cade, KayDee and Gracyn. He and his family reside in Haslet. Outside of the office, Dr. Alaniz enjoys hanging out with his four children and watching their extra-curricular activities and traveling to major league ballparks.  Date night with his wife is one of his favorite things to do!
Tonia - Practice Manager
As the Practice Manager,  I have many responsibilities at the practice, but I must say that what I enjoy the most is greeting our patients and getting to know them. I will ensure daily that you, our patient, are receiving the best care possible by our wonderful staff and that you comfortably enjoy each visit.  One of my favorite resonsibilites is being active in our city and community.  I enjoy using my platform in our office to support activites that involve our school district and various city activities.
I am motivated every day in knowing that our practice will continue to grow bigger and stronger with the hard work and dedication of our wonderful staff. Together as a team, with loyalty and personal attention, we make our practice a great place for your dental experience. We offer our patients of all ages a comfortable, caring and trustworthy environment.
I believe that every patient has a choice to walk in our door. I want to be the "why" in every patient's experience here. Through clear communication and education, I can set clear expectations with each patient by listening to them and understanding their individual need. I have been provided with bonus tools to enhance every experience. I believe that my choice to go the extra step and do the unexpected for each patient will result in continuous referrals that will provide growth and sustain a healthy practice. In doing this, I can honestly say that I provide each patient with consistent knowledge to help them best determine their course of treatment. When a patient decides to leave our practice, I want to know the "why" and learn from their experience here.
Robert - Registered Dental Assistant
I joined Dr. Alaniz in July 2018.  I've been in Dentistr y for over 10 years.  What I love most about working at Dr. Alaniz's practice is the people I work with. I am surrounded by individuals who care about each other and who work very hard to give the best dental care to our patients. They all create a fun and positive atmosphere!  I love the relationships that patients build with us and the trust and confidence they put in the services we provide.
My wife and I have been married for over 11 years.  My wife also works in the dental field where she has been in for over 11 years.  She enjoys spending time with family, her hobbies include balloon decoration and crafting.  I have 2 beautiful sons, Robert Jr. (9) and Isaac who is almost three months old.  Outside of work, I love spending time with my family, love cooking. I am currently active in the worship music ministry at my church where I spend a lot of time playing drums.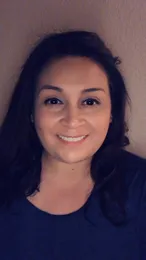 Vanessa - Treatment Coordinator
I joined Dr. Alaniz in 2015. I have been in dentistry for 16 years. I reside in Fort Worth and have been married for 7 years and have two children, Randy and Sadie. I enjoy spending time with my family and friends. My family and I love baseball and spend most of our weekends at the ball field watching Randy play.
I love being a part of Dr. Alaniz's team. We work together to provide the best dental care to our patients. We will help patient's feel comfortable, relaxed, and at home in our office. Dr. Alaniz and Tonia make it possible for us to be home early each evening so that we may spend quality time with our families. Being a part of this awesome team makes it extremely easy to come to work every day. We truly have the best patients and staff.
Gabrielle - Registered Dental Hygienist
Gabrielle graduated cum laude with a Bachelors Degree in Dental Hygiene from Texas Woman's University in 2012. She prides herself on excellent patient care and educating her patients on the best care for their best smile. Her best attribute is her contagious laugh. She brings a positive attitude to work each day which makes a fun and inviting work place.
She spends her time outside the office with her husband and her two huskies, Sierra and Dakota.
Kim - Registered Dental Hygienist
I joined Dr. Alaniz in February 2019.  I have practiced hygiene for 18 years.  I love being a hygienist!  We have the best team because we work hard and have fun doing it.  Also, we have a doctor that loves continuing education.
My husband, Jeff, and I have been married for four years.  I have three children: Eric (29), Amanda (27) and Clinton (25).  I also have two bonus children: Hanna (20) and Jacob (18).  I'm also proud to have my first grandbaby, Harper, who is two weeks old.  Outside of the office, I love spending time with my granddaughter, riding the countryside on my Harley, going to craft shows, photography and traveling.
Connie -  Insurance Coordinator/Registered Dental Assistant
I joined Dr. Alaniz in 2019.  I have been in dentistry for 20 years. What I love about my position is I get to continue to learn something new everyday and I enjoy interacting with people. What I enjoy most about the office is our morning huddles because we get to talk about how the day is going to be and just being a part of the team feels really nice. What I love most about our patients is the way they interact with the staff and how sweet they are. They feel like family.
I am a single parent with a daughter, Priscilla.  She is the light of my life and he most amazing thing that has ever happened to me. What I like to do outside of work is spend time with my daughter and family, eating out, being outdoors, travel, and just doing fun things and living life to the fullest.