Posts for tag: jaw pain
By Haslet Family Dentistry
June 21, 2020
Chronic jaw pain can be an unnerving experience that drains the joy out of life. And because of the difficulty in controlling it patients desperate for relief may tread into less-tested treatment waters.
Temporomandibular disorders (TMDs) are a group of conditions affecting the joints connecting the lower jaw to the skull and their associated muscles and tendons. The exact causes are difficult to pinpoint, but stress, hormones or teeth grinding habits all seem to be critical factors for TMD.
The most common way to treat TMD is with therapies used for other joint-related problems, like exercise, thermal (hot and cold) applications, physical therapy or medication. Patients can also make diet changes to ease jaw function or, if appropriate, wear a night guard to reduce teeth grinding.
These conservative, non-invasive therapies seem to provide the widest relief for the most people. But this approach may have limited success with some patients, causing them to consider a more radical treatment path like jaw surgery. Unfortunately, surgical results haven't been as impressive as the traditional approach.
In recent years, another treatment candidate has emerged outside of traditional physical therapy, but also not as invasive as surgery: Botox injections. Botox is a drug containing botulinum toxin type A, which can cause muscle paralysis. Mostly used in tiny doses to cosmetically soften wrinkles, Botox injections have been proposed to paralyze certain jaw muscles to ease TMD symptoms.
Although this sounds like a plausible approach, Botox injections have some issues that should give prospective patients pause. First, Botox can only relieve symptoms temporarily, requiring repeated injections with increasingly stronger doses. Injection sites can become painful, bruised or swollen, and patients can suffer headaches. At worst, muscles that are repeatedly paralyzed may atrophy, causing among other things facial deformity.
The most troubling issue, though, is a lack of strong evidence (outside of a few anecdotal accounts) that Botox injections can effectively relieve TMD symptoms. As such, the federal Food and Drug Administration (FDA) has yet to approve its use for TMD treatment.
The treatment route most promising for managing TMD remains traditional physical and drug therapies, coupled with diet and lifestyle changes. It can be a long process of trial and error, but your chances for true jaw pain relief are most likely down this well-attested road.
If you would like more information on treating jaw disorders, please contact us or schedule an appointment for a consultation. You can also learn more about this topic by reading the Dear Doctor magazine article "Botox Treatment for TMJ Pain."
By Haslet Family Dentistry
October 10, 2018
If you have chronic jaw pain, you know how difficult eating, speaking or even smiling can be. Many sufferers will do anything to gain relief, even surgery. But before you go down that road, consider the traditional conservative approach to temporomandibular disorders (TMD) management first—it could provide the most relief with the least risk of side effects.
The temporomandibular joints connect the lower jaw to the skull on either side of the head. These ball and socket joints also contain a cushioning disk to facilitate movement. This disk is believed to be the primary focus for jaw pain problems known collectively as TMD.
Doctors now believe injury, stress, metabolic issues, jaw anatomy defects or similar factors trigger the chain reaction of muscle spasms, pain and soreness that can erupt during a TMD episode. A TMD patient may experience pain within the jaw muscles or joints themselves, clicking sensations, or an inability to open the jaw to its full range.
TMD therapy has traditionally followed an orthopedic path—treating jaw joints like any other joint. In recent years, though, a more aggressive treatment model has emerged that promotes more invasive techniques like orthodontics, dental work or jaw surgery to relieve discomfort. But the track record for this model, especially concerning jaw surgery, remains hazy at best and offers no guarantee of relief. These techniques are also irreversible and have even made symptoms worse in some patients.
It's usually prudent, then, to try conservative treatments first. This can include pain and muscle relaxant medication, jaw exercises, stretching and massage, and dietary changes to reduce chewing force. Patients with teeth grinding habits may also benefit from a bite guard worn at night to reduce the biting force during sleep and help the joints relax.
By finding the right mix of treatments, you may be able to find significant relief from TMD symptoms with the conservative approach. If not, you might then discuss more invasive options with your dentist. But even if your dentist recommends such a procedure, you would be wise to seek a second opinion.
TMD can definitely interfere with your quality of life and peace of mind. But there are ways to reduce its effects and make for a happier life.
If you would like more information on managing chronic jaw pain, please contact us or schedule an appointment for a consultation. You can also learn more about this topic by reading the Dear Doctor magazine article "Seeking Relief from TMD."
By Haslet Family Dentistry
November 28, 2015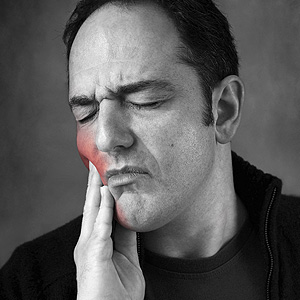 As many as 36 million adults in the U.S. suffer from some form of chronic jaw pain. What's more, many of these may also experience other painful conditions like arthritis or chronic fatigue in other parts of their body.
Chronic jaw pain is actually a group of difficult to define disorders collectively referred to as temporomandibular joint disorders (TMJD or also TMD). TMD not only refers to pain symptoms of the temporomandibular (jaw) joints but also of the jaw muscles and surrounding connective tissue. Most physicians and dentists agree TMD arises from a complex range of conditions involving inheritable factors, gender (many sufferers are women of childbearing age), environment and behavior.
A recent survey of approximately 1,500 TMD patients found that nearly two-thirds of them also suffered from three or more related health problems like fibromyalgia, chronic fatigue syndrome, rheumatoid arthritis, headaches, depression and problems sleeping. The understanding of TMD's connection with these other conditions is in its early stages of research, but there's avid interest among healthcare providers to learn more and possibly devise new treatments for TMD in coordination with these other related conditions.
In the meantime, TMD patients continue to respond best with the traditional approach to treatment, including physical therapy, thermal (hot or cold) compresses to the area of pain, medication and modifying the diet with more easier to chew foods. In extreme cases, jaw surgery may be recommended; however, success with this approach has been mixed, so it's advisable to get a second opinion before choosing to undergo a surgical procedure.
Hopefully, further study about TMD and its connection with other conditions may yield newer treatments to ease the pain and discomfort of all these conditions, including TMD. You can stay up to date on these and other developments for coping with the discomfort of TMD at www.tmj.org and through your healthcare provider team.
If you would like more information on TMD, please contact us or schedule an appointment for a consultation. You can also learn more about this topic by reading the Dear Doctor magazine article "Chronic Jaw Pain and Associated Conditions."