Posts for tag: dentures
By Haslet Family Dentistry
May 12, 2020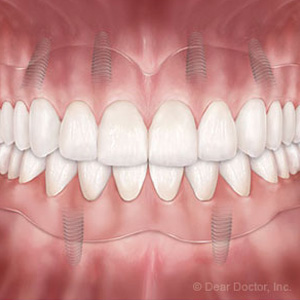 Even with modern prevention and treatment advances, losing teeth in later life is still a sad but common part of human experience. Just as generations have before, many today rely on dentures to regain their lost dental function and smile.
But although effective, dentures have their weaknesses. The most serious: they can't prevent jawbone deterioration, a common problem associated with tooth loss.
Bone health depends on chewing forces applied to the teeth to stimulate replacement growth for older bone cells. When teeth are gone, so is this stimulation. Dentures can't replicate the stimulus and may even accelerate bone loss because they can irritate the bone under the gums as they rest upon them for support.
But there's a recent advance in denture technology that may help slow or even stop potential bone loss. The advance incorporates implants with dentures to create two hybrid alternatives that may be more secure and healthier for the supporting bone.
The first is known as an overdenture, a removable appliance similar to a traditional denture. But instead of deriving its support from the gums alone, the overdenture attaches to three to four implants (or only two, if on the lower jaw) that have been permanently set into the jawbone. This not only increases stability, but the implants made of bone-friendly titanium attract and foster increased bone growth around them. This can help slow or even stop the cycle of bone loss with missing teeth.
The second type is a fixed denture. In this version, four to six implants are implanted around the jaw arch. The denture is then secured in place to these implants with screws. It's a little more secure than the overdenture, but it's also more expensive and requires good quality bone at the implant sites.
If you've already experienced significant bone loss you may first need bone grafting to build up the implant sites for these options, or choose traditional dentures instead. But if you're a good candidate for an implant-supported denture, you may find it provides better support and less risk of continuing bone loss than traditional dentures.
If you would like more information on implant-supported dental restorations, please contact us or schedule an appointment for a consultation. You can also learn more about this topic by reading the Dear Doctor magazine article "Overdentures & Fixed Dentures."
By Haslet Family Dentistry
June 08, 2017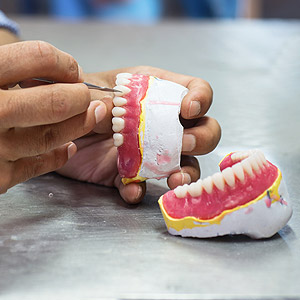 For centuries, people who've lost all their teeth have worn dentures. Although materials in today's dentures are more durable and attractive than those in past generations, the basic design remains the same — prosthetic (false) teeth set in a plastic or resin base made to resemble gum tissue.
If you're thinking of obtaining dentures, don't let their simplicity deceive you:Â a successful outcome depends on a high degree of planning and attention to detail customized to your mouth.
Our first step is to determine the best positioning for the prosthetic teeth. It's not an "eyeball" guess — we make a number of calculations based on the shape and size of your jaws and facial features to determine the best settings within the resin base. These calculations help us answer a few important questions for determining design: how large should the teeth be? How far forward or back from the lip? How much space between the upper and lower teeth when the jaws are at rest?
We also can't forget about the artificial gums created by the base. How much your gums show when you smile depends a lot on how much your upper lip rises. We must adjust the base size to accommodate your upper lip rise so that the most attractive amount of gum shows when you smile. We also want to match as close as possible the color and texture of your natural gum tissues.
There's one other important aspect to manage: how your upper and lower dentures function together when you eat or speak. This means we must also factor your bite into the overall denture design. This may even continue after your dentures arrive: we may still need to adjust them while in your mouth to improve function and comfort.
Ill-fitting, dysfunctional and unattractive dentures can be distressing and embarrassing. But with careful planning and customization, we can help ensure your new dentures are attractive and comfortable to wear now and for years to come.
If you would like more information on removable dentures for teeth replacement, please contact us or schedule an appointment for a consultation. You can also learn more about this topic by reading the Dear Doctor magazine article "Removable Full Dentures."