Posts for: March, 2018
By Haslet Family Dentistry
March 29, 2018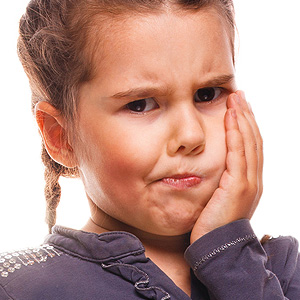 A child's toothache is no fun for either the child or the parent. But if you're faced with this situation, don't panic — unless they have a fever or you notice facial swelling, it's unlikely an emergency.
 Instead, take the following steps:
Find out where it hurts and for how long. Tooth pain can stem from a lot of causes, including decay or a localized area of infection called an abscess. See if your child can tell you if it's coming from one particular tooth or from a general area. Although children can't always judge how long they've hurt, try to get a general idea so you'll know if you need to call us sooner rather than later.
Look for problem signs in the mouth. As you look where they say it hurts, see if you can see brown spots or cavities on any teeth — this would indicate tooth decay. Look also at the gums or inner areas of the mouth for sores or swelling. Unless they've had an injury, this could indicate an abscess.
Try to dislodge any food shards between teeth. It's also possible the pain is coming from a piece of hard food like a popcorn kernel wedged between their teeth. Help them gently floss between the teeth to see if you can dislodge any.
Try to ease the pain. Although you may not need to see us immediately, your child's mouth still aches. You can help relieve it temporarily with a child's dose of ibuprofen or acetaminophen. You can also apply an ice pack to the outside cheek for swelling, but don't apply the ice directly to the skin, which can burn it. And don't rub aspirin or other pain relievers on the gums — they're acidic and can irritate soft tissue.
See us for a full examination. It's wise to have any tooth pain checked — the question is often how soon. You should see us the same day or first thing in the morning if the pain has persisted for more than a day or night, pain relievers haven't eased the pain or they have fever or facial swelling. If the pain is short-lived you can usually wait until the next day — but do get it checked out.
If you would like more information on treating your child's toothache, please contact us or schedule an appointment for a consultation. You can also learn more about this topic by reading the Dear Doctor magazine article "A Child's Toothache."
By Haslet Family Dentistry
March 14, 2018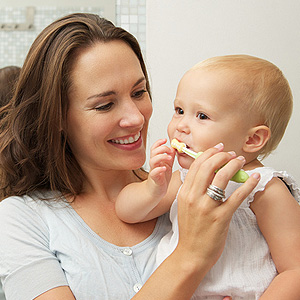 You can't go wrong with an early start caring for your child's teeth and gums. In fact, dental care should begin in earnest when their first tooth appears.
You should begin by gently cleaning your infant's gums and new teeth after each feeding with a clean, water-soaked washcloth or gauze pad. Once they start eating solid food, you should transition to a soft-bristled brush with just a smear of fluoridated toothpaste. Around age 2, you can increase that to a pea-sized amount and begin teach them to brush for themselves.
The next important element in your child's dental care is beginning regular dental visits around their first birthday. There are good reasons to begin visits at this time. There primary teeth should now be erupting in earnest and you'll want to begin prevention measures against tooth decay if needed. You'll also want to get them used to going to the dentist early in life: if you wait a year or two later, they may not respond well to the unfamiliar surroundings of a dental office.
There are also a number of things you can do to support hygiene and dental visits. You should not allow your child to sleep with a pacifier covered or a bottle filled with anything but water. Milk, juices and other sugar-containing liquids will raise the risk of tooth decay. And speaking of sugar, limit their consumption to meal times: snacking constantly on sugar can create an environment ripe for decay.
Of course, dental disease isn't the only hazard your child's teeth may face. Accidents can happen and your child's otherwise healthy teeth could be injured. So, make sure they don't play too close to hard furniture or other features around the house they could fall on. If they should begin playing contact sports, invest in a custom mouth guard — avoiding an injury is well worth the cost.
Getting into dental care with your children as soon as possible will set the foundation for good oral health. And the example you set will stick with them as they take on their own dental care when they're older.
If you would like more information on caring for your child's teeth, please contact us or schedule an appointment for a consultation. You can also learn more about this topic by reading the Dear Doctor magazine article "Top 10 Oral Health Tips for Children."