Posts for: April, 2016
By Haslet Family Dentistry
April 19, 2016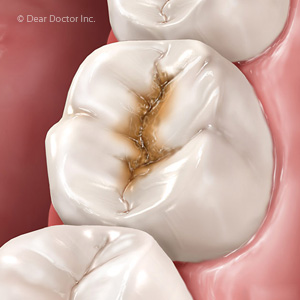 Although preventable, the occurrences of tooth decay are all too common. Yet decay doesn't appear out of the blue: certain mouth conditions set the disease in motion.
Here are a few signs of such conditions to watch for — they could be telling you you're at higher risk for tooth decay.
Visible plaque. Plaque is a thin film of bacteria and food accumulating on tooth surfaces and a prime haven for causing periodontal disease. If you actually see it — a crusty, yellowish film — that means there's a large, unhealthy amount of it. It's essential to remove it daily through diligent brushing and flossing and more thorough office cleanings at least twice a year.
Poor saliva flow. One of this bodily fluid's functions is to neutralize mouth acid, usually thirty minutes to an hour after we eat. If saliva flow is inadequate, though, acid levels may remain high and endanger the enamel. "Dry mouth" can occur from a number of causes, including some medications and chemotherapy treatments. It's important to alleviate the cause if possible by changing medications or stimulating saliva flow through other means.
Tooth shape and appliances. Largely determined by heredity, your teeth contain unique, tiny grooves known as pits and fissures that could harbor plaque. Certain appliances like retainers, braces or night guards can inhibit saliva flow and cause your teeth to retain more plaque. It's important then to adjust your hygiene efforts to offset these anatomical or treatment factors.
Acid-producing conditions. Diseases like gastro-esophageal reflux disease (GERD) or eating disorders can introduce stomach acid into the mouth that is highly erosive to tooth enamel. It's imperative for you or a family member to control these conditions through medication, dietary changes, or — in the case of eating disorders — behavioral therapy.
Eating habits. Sugar and other carbohydrates are a ready food source for bacteria. Likewise, acidic foods and beverages (like coffee, tea, and sports or energy drinks) can cause high acid levels for too long. Cut back on eating and drinking these foods and beverages, especially as snacks, to reduce acid levels that could lead to decay.
If you would like more information on strategies to prevent tooth decay, please contact us or schedule an appointment for a consultation. You can also learn more about this topic by reading the Dear Doctor magazine article "Tooth Decay: How to Assess Your Risk."
By Haslet Family Dentistry
April 04, 2016
It might seem that supermodels have a fairly easy life — except for the fact that they are expected to look perfect whenever they're in front of a camera. Sometimes that's easy — but other times, it can be pretty difficult. Just ask Chrissy Teigen: Recently, she was in Bangkok, Thailand, filming a restaurant scene for the TV travel series The Getaway, when some temporary restorations (bonding) on her teeth ended up in her food.
As she recounted in an interview, "I was… like, 'Oh my god, is my tooth going to fall out on camera?' This is going to be horrible." Yet despite the mishap, Teigen managed to finish the scene — and to keep looking flawless. What caused her dental dilemma? "I had chipped my front tooth so I had temporaries in," she explained. "I'm a grinder. I grind like crazy at night time. I had temporary teeth in that I actually ground off on the flight to Thailand."
Like stress, teeth grinding is a problem that can affect anyone, supermodel or not. In fact, the two conditions are often related. Sometimes, the habit of bruxism (teeth clenching and grinding) occurs during the day, when you're trying to cope with a stressful situation. Other times, it can occur at night — even while you're asleep, so you retain no memory of it in the morning. Either way, it's a behavior that can seriously damage your teeth.
When teeth are constantly subjected to the extreme forces produced by clenching and grinding, their hard outer covering (enamel) can quickly start to wear away. In time, teeth can become chipped, worn down — even loose! Any dental work on those teeth, such as fillings, bonded areas and crowns, may also be damaged, start to crumble or fall out. Your teeth may become extremely sensitive to hot and cold because of the lack of sufficient enamel. Bruxism can also result in headaches and jaw pain, due in part to the stress placed on muscles of the jaw and face.
You may not be aware of your own teeth-grinding behavior — but if you notice these symptoms, you might have a grinding problem. Likewise, after your routine dental exam, we may alert you to the possibility that you're a "bruxer." So what can you do about teeth clenching and grinding?
We can suggest a number of treatments, ranging from lifestyle changes to dental appliances or procedures. Becoming aware of the behavior is a good first step; in some cases, that may be all that's needed to start controlling the habit. Finding healthy ways to relieve stress — meditation, relaxation, a warm bath and a soothing environment — may also help. If nighttime grinding keeps occurring, an "occlusal guard" (nightguard) may be recommended. This comfortable device is worn in the mouth at night, to protect teeth from damage. If a minor bite problem exists, it can sometimes be remedied with a simple procedure; in more complex situations, orthodontic work might be recommended.
Teeth grinding at night can damage your smile — but you don't have to take it lying down! If you have questions about bruxism, please contact us or schedule an appointment for a consultation. You can learn more by reading the Dear Doctor magazine articles "Stress & Tooth Habits" and "When Children Grind Their Teeth."